About Placement and Career Development Cell
The Placement Cell is an integral and esteemed component of Ramanujan College, dedicated to ensuring the optimal career prospects for our graduating students. Our track record of excellence, upheld over an extensive period, coupled with a strong institutional brand image, attracts recruiters from prominent corporate entities.
Our Placement Cell operates tirelessly throughout the year under the able leadership of experienced professionals, guided by the esteemed Principal and supported by our esteemed faculty members. We maintain close collaboration with recruiting teams from leading corporate organizations to ensure that every student receives suitable career opportunities upon completing their courses.
The Placement Cell possesses an in-depth comprehension of the dynamics of the corporate world, which enables us to organize events and programs aimed at exposing students to the realities of the professional realm. The contemporary job market demands individuals who are knowledgeable, skilled, and committed, and our Placement Cell strives to meet this demand.
What do we provide?
Our array of offerings includes internships and placements opportunities, webinars, seminars, workshops, personality development programs, and guest lectures. These activities provide students with ample opportunities to engage with professionals from diverse industries, fostering the development of critical thinking skills and the ability to think creatively. Furthermore, the Placement Cell facilitates in-house training, projects, and internships with corporate organizations.
At Ramanujan College, we are committed to nurturing and preparing our students for a successful and fulfilling professional journey. The Placement Cell plays a pivotal role in this endeavor, ensuring that our graduates are well-prepared to thrive in the competitive global job market.
Departmentalization in the cell
The Placement Cell comprises five specialized departments: Research, Notice, Graphics, Data Management, and Outreach & Marketing. The Research Department builds corporate relationships, the Notice Department handles documentation, Graphics manages social media presence, Data Management maintains company and alumni data, and Outreach and marketing spreads awareness and manages events. These departments collaborate to provide holistic support for student career development.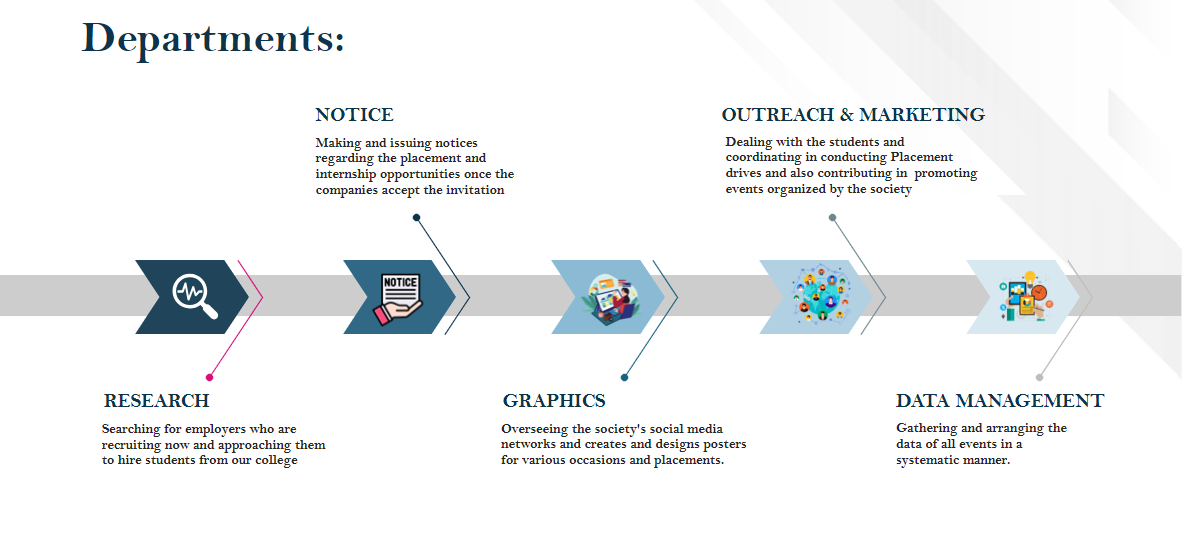 For more details contact
Placement Cell Contact Info
E-mail Id: placement@ramanujan.du.ac.in
Insta Handle: https://instagram.com/ramanujanplacementcell?igshid=MzRlODBiNWFlZA==
LinkedIn Handle: https://www.linkedin.com/in/placementcellrmc
Convenor
Mr. Prakhar Wadhwa
Phone Number: 9971155832
President
Mr. Mayank Joshi
Phone Number: 7389897436