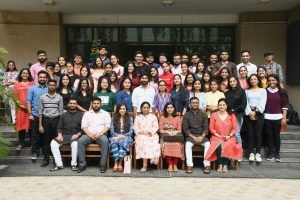 About the Department
The Economics Department of Ramanujan College takes pride in being among the best departments for the study of Economics at the undergraduate level. It comprises a young and dynamic faculty with diverse specializations and interests.
It was in July 2013 that the B.A. (Honours) Economics programme was introduced in Ramanujan College under the guidance of Professors of the Delhi School of Economics.
The teaching methodology at Ramanujan combines standard methods of University education – lectures and tutorials – with written assignments, project work, field trips, and student presentations both in class and in seminars. The faculty endeavours to preserve the vibrant academic atmosphere in order to provide high quality Economics education from both theoretical and practical perspectives.
All activities of the Department are aimed at encouraging students in various extra-curricular and co-curricular activities, which encourages them to explore beyond the frontiers of the prescribed syllabus, evaluate economic issues and interact with experts from diverse areas of specialization. In this respect, the Economics Society of the Department "Essenzia" organizes a variety of events to promote students' interest in the subject.  Essenzia activities are extended to encompass areas of research, career and literary interactions through its wings viz. Essenzia Research Wing (ERW), Essenzia Career Wing (ECW) and Samvaad, the literary discussion circle.
The department and its society conducts its operations and extension activities taking into consideration its social objective of inclusiveness. In light of the same, the Economics Society's Outreach initiative, Zariya, is a collaborative effort of the students and teachers of the department to contribute towards the upliftment of the society in various ways. Additionally, to ensure inclusivity among the students of the department coming diverse cultural, ethnic and racial backgrounds, the department regular conducts Open House Sessions to encourage positive interaction among students and teachers.
Scope of the Subject
The study of economics as a discipline encourages analytical thinking and a pragmatic approach to economic problems. At Ramanujan College, there is an emphasis on providing a strong foundation in economic theory, along with the focus on issues specific to the Indian context. Such a process of rational decision-making is of great value in any career a person chooses.
It provides a platform for varied vocations like IES, IAS, MBA, MFC, MBE etc. Those with an inclination towards banking and marketing can opt for MBA; while more academically oriented students can pursue M.A. and Ph.D in Economics. The Civil Services and the Planning Commission are still very popular pursuits for those interested in administration and framing economic policies.
Courses Offered
The B.A. (Hons) Economics programme is aligned with Choice Based Credit System (CBCS) adopted by the University of Delhi.
No. of Seats: 58
The following types of courses are offered under CBCS:
Core Courses (CC): A core course is a compulsory course. A student of Economics (Hons) has to take fourteen such Economics courses over six semesters.
Elective Courses (EC): An elective course is a course that is to be chosen from a specified set of courses. These courses are of two types.
Discipline Specific Electives (DSE): These are elective courses that provide advanced undergraduate training in specialised areas of Economics. A set of seven, semester-specific, courses of this kind are offered in the fifth and sixth semesters of the Honours programme. In each of these semesters, a student has to take two such courses from the relevant semester's set of seven courses.
Generic Electives (GE): These courses, in disciplines other than Economics, are intended to broaden the training of a student in the Economics (Hons) programme. A student of Economics will take one such course, offered by another department, in each of Semesters I to IV.
Ability Enhancement Compulsory Course (AECC): Two such courses are to be taken, one in Semester I (Art of Communication, equivalent to MIL) and one in Semester II (Environmental Science).
Skill Enhancement Course (SEC): A student is to take one such course in Semester III and one in Semester IV.
Eligibility Condition
Students seeking admission to Economics (Honours) must have studied Mathematics in class XI & XII and secured a minimum of 60% in the subject. Mathematics will be counted in the best four subjects. Besides, Language is compulsory.
Medium of Instruction: English and Hindi